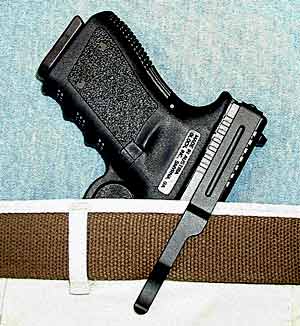 The Bush administration formally proposed today to scrap a longtime ban against bringing loaded weapons into
national parks and wildlife areas. Under the plan, individuals could carry a concealed weapon in national parks and wildlife refuges if they are authorized to do so on similar state lands in the state in which the national park or refuge is located. That would free up people to pack heat in Rocky Mountain National Park, Mesa Verde, and all the rest of our local parks and monuments.
Critics have pointed out that there is no need to carry concealed hand-guns in the parks, since there is so little crime, you're statistically more likely to be hit by lightning than involved in an altercation.
Being someone who has never owned a gun, I'm always surprised to see people feel the need to carry one, even where there seems to be little reason. Threads on 14ers.com regularly feature discussions of whether to pack heat on climbs. Opinions swing widely, but the consensus leans toward yes. For what though? Bears? Not really an issue. Banditos? Again, I haven't seen them. Mountain lions? They'll see you before you see them.
Go figure.