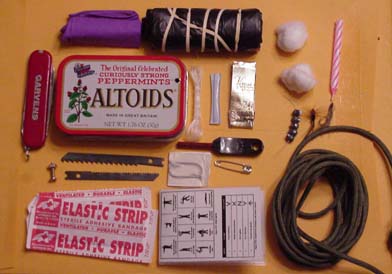 Seriously, guys, are you listening? Don't try to be a hero.
The
Associated Press reported today
that the body of a man who left his family in a stranded car to go for help was found, three days after the family was rescued.
Sound familiar? Last year a family became lost on a winter hike on Grand Mesa in western Colorado. Dad went for help. Mom and daughter spent a cold night before rescuers found them.
Dad's body was found weeks later under the snow.
It doesn't take a scientist to see pattern here.
I know, you're a man. You think you can help. You're a do-it-yourself kind of guy. It's up to you.
But come on. If you were that good at getting yourself out of fixes, you wouldn't be in a position where you have to leave the kids and wife to get help in the first place.
Just stay put!
While you're waiting, you can read one of several informative
survival guides
available from credible publishers.
If you happen to have access to the 'Net, there's some helpful advice there too. Our favorite, and first on the list of
The psychology of Survival
: Know yourself.
Oh, and you can learn to make your own budget survival kit (pictured above) at
www.survival.com
.