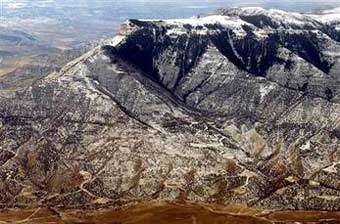 With gas drilling popping up across Colorado on places such as the Roan Plateau (left) at a never-before-seen rate, the state Division of Wildlife has added a special liaison to deal with wildlife related energy issues.
Here's the press release:
DOW HIRES LIAISON TO ASSIST WITH ENERGY DEVELOPMENT ISSUES
In the face of increasing energy development in Colorado, the Colorado Division of Wildlife (DOW) has hired an Energy Liaison to assist in outreach efforts with the energy industry and federal and state regulators.
Kim Kaal, a certified professional geologist, was hired to fill the energy liaison position and began work on Mar. 1. Kaal has served as an environmental consultant to the energy industry and was environmental coordinator for EnCana in western Colorado.
"Working for years in the energy industry, I've seen how balance can be achieved between energy development and wildlife," said Kaal. "This position gives me the opportunity to work with industry and provide methods and concepts that can be used to minimize impacts."
Kaal is stationed in the DOW Northwest Region office in Grand Junction. "Energy development in northwest Colorado is occurring in the same areas that are home to the largest migratory mule deer and elk herds in the nation," said Ron Velarde, northwest regional manager for the DOW. Velarde oversees wildlife efforts in nine counties, including Garfield County which leads the state in operating drill rigs and number of permits issued for wells. The challenge of mitigating the impacts of energy development is not just limited to one area, which is why the energy liaison will serve as a statewide authority on the energy industry.
There has been increased natural gas exploration across western Colorado, including the HD Mountains of southwestern Colorado. Beyond the natural gas boom the state is experiencing, Kaal will assist DOW staff with preparing comments regarding efforts to mine Colorado's low-sulfur coal deposits, potential oil shale development, oil wells along the Front Range, increased emphasis on wind and alternative energy, and interest in the state's uranium deposits. "Having someone with Kim's expertise and knowledge of geology is critical for the DOW," said Velarde. "We have a great deal of biological knowledge, but industry speaks a different language. Kim gives us someone who can translate our message to industry and bring industry discussions back to our level. It's not an easy job, but it's an essential job."
The DOW has no authority over energy extraction but serves in an advisory capacity for many land use agencies and regulatory bodies. The DOW is statutorily mandated to protect and enhance Colorado's wildlife resource.