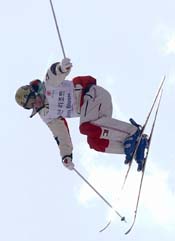 I tend to think of Jeremy Bloom first and foremost as a freestyle skier, especially with the
2006 Winter Olympics
fast approaching, but apparently Bloom sees the real game is played on the gridiron, and skiing is just something that happens on the side.
He told the
Washington Times
(collective groan) today that:
"The Olympics are great, but they're not the Super Bowl," he said.
"I love football. Skiing is primarily a recreational sport. Football is your teammates and the pressure and the rivalries and 80,000 people screaming. ... Football is that unknown right now, that missing block, like 'What if?' I need to answer that
."
Considering he is tops at both, maybe he knows where the money is. Even top names in skiing don't pull in the cash that an NFL player does.
-Dave